The Essence of Cool Season 2 w/ Kevin Hearn
Sundays 2pm-4pm and Fridays 10am-12pm EST bombshellradio.com
Kevin Hearn is best known as one of the multi-platinum album selling Barenaked
Ladies and their huge hits One Week, If I had a Million Dollars, and the theme song
for the tv series Big Bang Theory.
He also has a very successful solo career with 9 albums to his credit, including his
latest release "There and Then". On this episode, Kevin talks about his storied
career, his battle with cancer, riding a high with the Ladies for nearly 30 years, and
his friendship and musical relationship with legendary rocker Lou Reed .
www.kevinhearn.com
www.barenakedladies.com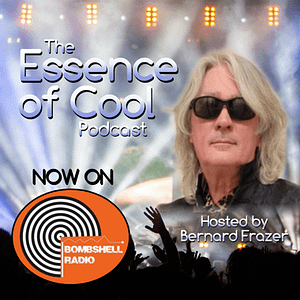 Bernard Frazer is a Canadian songwriter/musician whose synth pop band Church of Trees has topped independent charts around the world. He is also a former television producer/writer of such shows as Real Life with Erica Ehm (Life Network), The Dini Petty Show (CTV), Miracle at Niagara, and New Year's Eve Niagara Falls
In Season 2, we've scheduled episodes with the great Phil Thornalley (The Cure, Duran Duran, etc), Kevin Hearn (Lou Reed, Barenaked Ladies), Men without Hats' Ivan Doroschuk, legendary rocker June Millington (Fanny, Earl Slick, Bonnie Raitt), the great Jay Semko of 5-time Juno nominated Northern Pikes, indie star Vicki Brittle, and more.
We've also scheduled a series of episodes discussing the life and musical impact of Canadian producer, and songwriter, Tim Thorney (Alanis Morrisette, Cassandra Vasik, etc). For this very special series, we'll be joined by former Much Music VJ Erica Ehm, Juno award-winner Hill Kourkoutis, 'drummer to the stars' Randy Cooke, Tim's brother Tom, and Tim's longtime engineer and friend, Adam Fair.
Stay Tuned!
---