Just Another Menace Sunday 647 w: Mainland
Tonight 6pm EST bombshellradio.com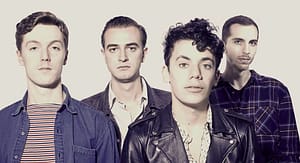 This Week – Episode #647 A DTM CONVERSATION WITH MAINLAND AND THEIR MUSICAL SANDWICH.
(06/12/2016)
Theme Song
Just Another Menace Sunday Theme (Dennis The Menace) – Mighty Six Ninety
Hour 1
A DTM CONVERSATION WITH MAINLAND AND THEIR MUSICAL SANDWICH.
OPENING SONG: Not As Cool As Me – Mainland
MAINLAND MUSICAL SANDWICH (Two songs as the bread and songs by others in-between!)
OPENING BREAD: Outcast – Mainland
Spanish Bombs – The Clash
Policy Of Truth – Depeche Mode
Girls On Film – Duran Duran
Stranger In Moscow – Michael Jackson
Paper Tigers – Spoon
There She Goes – The La's
There She Goes Again – Velvet Underground
Salad Days – Minor Threat
Salad Days – Mac Demarco
Break – Fugazi
Close To Me – The Cure
Nighttime – Big Star
CLOSING BREAD: A Bit Of Time – Mainland
Hour 2
NEW MELODIC ROCK AND ROLL!
OPENING SONG: Walk In The Park – Still Parade (Lefse)
What You're Talking About – Peter, Bjorn & John (PB&J)
Nostalgic Intellect – Peter, Bjorn & John (PB&J)
All My Life – Caveman (Cinematic)
I'm On Fire – Cub Sport (Nettwerk)
These People – Richard Ashcroft (Harvest)
Impossible Tracks – The Kills (Domino)
Lemontrees – Eagulls (Partisan)
Lost – Iska Dhaaf (Brick Lane)
That Here – Tegan & Sara (Warner Bros.)
Happy – Mitski (Dead Oceans)
Me & Magdelena – The Monkees (Rhino)
CLOSING SONGS: Tick – Weaves (Kanine)
---